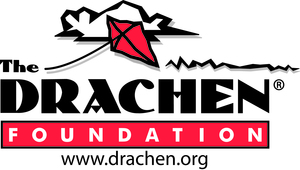 News from Drachen Foundation
Perhaps it is a bit "odd" to have so many individuals write about one kitemaker. But that is the point, it is one SPECIAL kitemaker, and I am sure there are hundreds more who would and are waiting to step up to their computers to write something about this phenomenal man, Jørgen Møller Hansen.
These are just three of the tributes to Jorgen and I encourage you to read them all. RIP (rest in peace) our friendly Fanø Dane.
On the other side of the world, we lost a titan of kite enthusiasts, Charlie Watson. I was so lucky to have been a part of his kite life at the end, as he worked tirelessly to bring Drachen a legacy of his father, Logan Fow, and through the gifting of his father's collection of Southeast Asian fighter kites, the legacy of himself. There was no better way to immortalize Charlie and all he stood for than to put this collection on-line for eternity. I don't know if he knew what he was doing in taking the precious time he had left to work with us, but more importantly, to work for the WORLD. What good is all of this if it can't be visited?
Fear not Charlie, your gift of kiting is forever.
Ali Fujino
Executive Director
Drachen Foundation
---
Jørgen Møller Hansen
His kites you may well know; the apparently simple, almost minimalist graphics based on white, black or grey with the inclusion of a single colour, the pattern chopped and rearranged to create balance and tension. Some designs could be gently decorative, like the patterns in drapery painted by Matisse; others could be bold and almost aggressive, the diagonal lines slashing boldly from left to right, cut and rearranged like collage in a Russian constructivist composition. They were undoubtedly some of the most ambitious attempts at a pure, fine-art approach to kite design; the kite was Jørgen's canvas, the sky his gallery wall.
Jørgen lived in Aarhus, a port town on Denmark's east coast, famous for its sail-making industry and deeply affected by its relationship with the sea. When reminded of his Viking ancestors, he'd usually respond with a cry of 'Rape and Plunder!,' typical of his robust sense of humour.
Jørgen's kites had the same attention to manufacturing excellence as the sails he saw in the sail lofts. Close up you'd see the reinforcements and strengthening strips; the kites were made to last and could seem almost heavy on the ground, but up in the air they seemed fragile and delicate and flew superbly, a combination of great craftsmanship and sharp design.
---
Charlie Watson
Longtime New Zealand kiteflier and power kiter, Charlie Watson succumbed to cancer this month. Fighting to the end, Charlie had started a facebook group, Power Kiters with Cancer, where, as he said, fighters could "brag, and moan and stuff. No commercial side or hidden agenda." A kite flier for over 45 years, Charlie was the son of another noted Kiwi kiteflier, Logan Fow. Charlie worked to preserve the kites collected by his father, throughout Southeast Asia over forty years ago. He was in the process of donating many of these kites to the Drachen Foundation upon his untimely passing.
Read more about how Charlie Watson's Legacy lives on through the web. >
Drachen Foudation
| 2212 Queen Anne Ave N #501 | Seattle, WA 98109
Phone: 206-282-4349 | info@drachen.org |
www.drachen.org